Welcome to the
Just Fit Family!
---
We are glad that you are here! and we are very excited that you picked us to help you with your fitness goals! Now, let us tell you a little bit about us.
Just Fit is a family of 2 boxes, Just Fit Weston, and Just Fit Palmetto Bay!
Just Fit Weston was born in January of 2014, and it was built out of the love and passion for fitness from its owners Michelle and Derk, a young couple who are all about living a healthy lifestyle, and about helping others.
Before Just Fit was born, Derk and Michelle were both employed, Derk as an Industrial Engineer, and Michelle worked on the Marketing & Advertising field; however, they didn't quite feel that their jobs were what they wanted to keep doing for the rest of their lives
So after they got married in March of 2013, they decided that they wanted to open a business of their own, something that they loved doing, and that were passionate about! Something that would make them wake up every morning excited about doing, and that at the same time would be a powerful tool to help other people, and impact their lives in a positive way, and what a better idea than opening a Gym of their own!
After 7 years of being blessed with Just Fit Weston, they got an opportunity to grow the family, and thats when Just Fit Palmetto Bay was born!
So whether you live in the North or the South, we got you covered!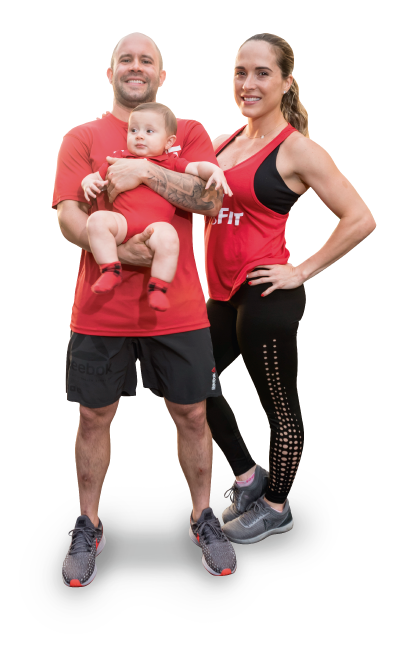 What are our Athletes Saying?
Franklin Villasmil



 



 



 



 



It's not just a place to workout, it is a place to learn grown, and gain a second family. Being part of Just Crossfit has been the best decision I've made for my health. The coaches are attentive, persistent, and happy. You can tell that they love what they do. If you've never tried Crossfit before this is the place to come and get hooked. It doesn't matter your skill level or how much you can lift, anyone can make progress at this box. You guys ROCK!!!

Ricardo Ramirez



 



 



 



 



De verdad que es lo maaaaaximo. Es mi segundo lugar favorito del mundo, los horarios son perfectos y se adaptan a las necesidades de todas las personas, el lugar es super amplio y muy bien equipado, pero lo mejor de todo son los coach, siempre están dispuestos a corregirte y a ayudarte, motivan al 100% y son un amor de personas, de verdad que gracias por hacernos amar el crossfit, no hubiera podido encontrar un mejor lugar para entrenar ?.

Fabi Cabrera



 



 



 



 



Best environment. Clean. Friendly staff. Great music. Nutritional guide and body matrix provided. My fav part is that it isn't only weights and lifting, they incorporate a lot of cardio as well!!!!!!!! I love it. Must go. First class is free 🙂 You will see results quickly.

Jessica Lola



 



 



 



 



My experience at Just Crossfit has been absolutely incredible thus far. The coaches are exceptional and the environment is addicting. The gym owners (Michelle and Derk) are incredible people and leaders. Michelle's multiple experiences at the Crossfit Regional competitions also provide everyone with an unparalleled experience!

Wayne Magnum



 



 



 



 



This is a wonderful box! The instructors are knowledgeable and always helpful and friendly. The workouts are tough, but the environment is very welcoming, especially for those getting into crossfit for the first time.

Graziela Perlow Friedler



 



 



 



 



JustCrossfit has been my second home since I recently move to Weston! Best coaches, amazing workouts and incredible athletes are only a small part of it! Over there we are always motivated to do our best during the workouts, what make losing body fat and gain lean mass very easy!

Nikki Meza



 



 



 



 



Just cross fit kids is awesome because we get to do so much at ever singe class and the coach's that work there they are sooooooo good at working with you.

Sonia Azuaje



 



 



 



 



I love Just Crossfit!! The clases are amazing and the coaches are super dedicated. I highly recommend them.

Danimar Carrero



 



 



 



 



Mi hijo y yo estamos super felices y adictos a esta disciplina el crossfit es lo maximo Justcrossfit es el mejor box en Weston hay clases para niños y adultos Los coach son Los mejores estan pendiente de cada movimiento q haces para cuidar la postura y q lo hagas perfectamente bien, somos una familia crossfitera recomendado 100%

Neta Hirsch



 



 



 



 



LOVE IT!! Love the energy, love the coaches, everyone are supper nice and professionals. best place to workout in Weston. 5 star*****